Welcome to Cape 66°
A place where
helpfulness is a precious asset
We're business-owners and executives. We run businesses across 50 industries and come from the UK, US, and 20 countries. Cape 66° provides us with a quality environment in which supporting one another is rewarding and time-efficient.
Meet one of our UK founding members. Simon's powerful message embodies the philosophy behind Cape 66°.
Our community is founded on the principle of paying it forward.  So from day 1 in Cape 66°, a member has access to the support of the entire community. We (1) support one another with the challenges of business, (2) develop meaningful relationships, and (3) foster goodwill within a serious and helpful community. 
We interact via the Cape 66° platform which makes our interaction rewarding and time–efficient , and the Cape 66° team gets to know every single prospective-member personally which maintains the integrity of our community.
As a new member, I've been extremely pleased with the depth and credibility of advice I've received from other members.

Cape 66° feels like a trusted community of professionals that value integrity. This isn't about promoting your business, this is about having a safe and trusted forum of business people that can (and do) help each other and know that they will get genuine help in return.

With my first request for help, I received a welcome number of valued replies with a variety of ideas and advice, it's been extremely useful.

Cape 66° is a different approach to LinkedIn, which is a great business forum for sharing news and generally promoting yourself. Cape 66° is a protected environment where there seems to be mutual trust and respect between members (to be helpful rather than self serving/promoting).

As with most things in life, you get out of it what you put in – this could almost be the foundation quote of Cape 66°. The membership is modest enough that it's easy to get value, easy to use and correspond.

Peter Lockett | MorenOE
Giving without expectation of reward is not for everyone; those willing to share another's burden require a degree of self-awareness and humility that is not as common as one might expect. In fact, offering assistance to others is both educational and professionally rewarding because it requires us to consider what we know from a different perspective and in a fresh context.

Our humility in being willing to understand someone else's perspective and adapting our own expertise and knowledge to help answer questions is the very essence of ethical professional practice. To do so without the expectation of return is the grist of community. Cape 66° is quite simply a genuine professional community, diverse and dispersed. I have had the opportunity to respond on six occasions. Though I have not yet needed to ask my own question, I feel that I have benefited significantly from each interaction and built new professional relationships in a couple of instances.

Cape 66° is so much more than paying forward; it speaks to the essence of professionalism at a time when the professions themselves are being forced to change by technology and social expectation.

Alec Hay | Southern Harbour
I am a big proponent of the Cape 66° concept and I'm currently working closely with one of the fellow members Nik Plevan, who I met on Cape 66° and together we are creating a new game-changing recruitment platform.

I am hugely grateful to Mans for the vision and co-operative spirit that underpins the platform.

Ellie Dailey | Intro 30
Small business leadership is tough, and Cape 66º allows us to share experiences and support each other, without expecting anything in return.

Cape 66º has been a great sounding board for new ideas in my business. I was looking at growing into a new area, so put a call out to business owners on Cape 66º to get initial feedback and ideas. I had seven written replies within a few days, with detailed thoughts and firsthand experiences. This is so, so useful for shaping my business plans, and a safe space to test ideas quickly with trustworthy people.

If LinkedIn is a stuffy meeting in a corporate hotel with a tepid glass of water, then Cape 66º is chatting over a pint in your favourite pub.

Access to a vetted community of business leaders is the most attractive thing to me here.

Joel Waller | Waller London
Hi Mans,

I really think that the concept of Cape 66 is amazing. I would describe it as a 'collective knowledge exchange' with members supporting each other for the good of all. LinkedIn is a social media platform which Cape 66 most certainly is not. Although members have a business profile the concept behind this is that fantastic exchange of knowledge and the ability to help one another.

I think as the membership continues to grow that it will become an invaluable resource to everyone involved.

What I really like about Cape 66 is that there is a process for becoming a member, thought and consideration is given to those that join and what value they bring and can contribute for the collective good rather than a platform being created to 'make money'.

It's a real pleasure to be part of this community and I know that the whole team at Locate International really appreciates the support of yourself and the members of Cape 66.

Stephen Shepherd | Locate International
My partner and I run a relatively new business in a market sector we're not very familiar with. Knowing that there's a community of business people we can ask for advice is enormously comforting. At the same time, it's gratifying to share the knowledge we've gained over the last 30 years as corporate board members and entrepreneurs. In this sense, we consider that Cape 66° offers a valuable service which is quite unlike any other B2B platform we've experienced.

Chris Marrington & Sue Lerena | The Learning Worker
Mans,

In this time of division and polarization, with an unfolding climate crisis, it's important that we review our most fundamental lifestyle choices with an eye towards inclusion and harmony and mutual support. Humanity is facing an existential crisis. Cape 66° embodies just the kind of collaborative spaces that we need to create and nurture!

Thanks for your commitment to this work!

Yoram Bernet | Scope 5
Meet the Cape 66° Global Industry Presidents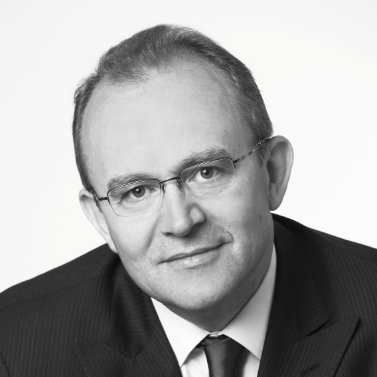 Alec read civil engineering at the University of Edinburgh followed by a 25-year career in the Royal Engineers, specialising in infrastructure development and fortifications. He is the founder of Southern Harbour, an infrastructure systems risk, resilience and protection consultancy based in Toronto, Canada, and operating in North America, Middle East and Baltic. He is, since 2010, an adjunct professor at the University of Toronto Centre for Resilience of Critical Infrastructure where he investigates post-conflict rehabilitation and development, and teaches the next generation of infrastructure engineers.
Ellie studied English Literature at Durham before starting a career in global recruitment. Ellie's 15 year career in global recruitment  has taken her from the Investment Banking world in London to the Sovereign Wealth Funds of Dubai & the Middle East to the Finance & Tech worlds in Singapore & South East Asia, and eventually to Silicon Valley where she co-founded Intro 30 – a recruiting platform that offers candidates the chance to introduce themselves in 30 seconds. Ellie brings a wealth of experience to our community and supports fellow members in a variety of areas with a particular focus on recruitment and human resource management.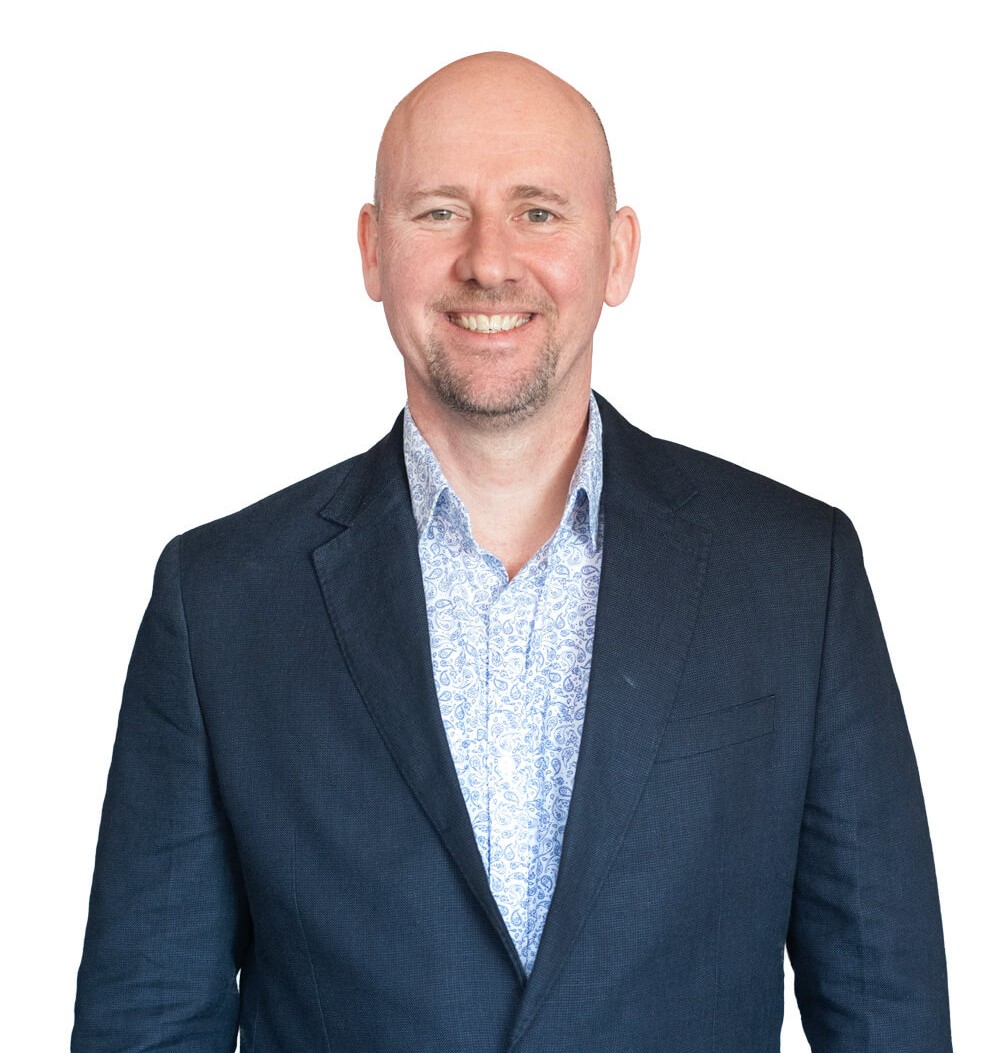 Charlie studied Theology and Philosophy at St Andrews. He started his career in media relations in London before moving to South Africa in the early 2000s. In 2008, Charlie co-founded Rogerwilco, an award winning performance marketing agency which has offices in Cape Town, Johannesburg, London and Geneva. He co-authored a book on business to business marketing which was published by Penguin Random House in 2016 and is a regular contributor to some of the world's leading marketing publications. Charlie brings a wealth of experience to Cape 66° and supports fellow business-owners in a variety of areas, with a focus on strategy and high impact results oriented marketing.
Owen studied economics at Wharton and LSE and had a 20+ year career in investment management. In 2011, Owen co-founded DAVO Technologies which provides a suite of products which solve the cash management problems associated with running a small to mid-sized business. DAVO's flagship product 'DAVO Sales Tax' automatically collects sales tax daily and files and pays for the merchant. Owen brings a wealth of experience to Cape 66° and supports fellow business-owners in a variety of areas with a particular focus on starting and scaling a SaaS company from scratch.
Mans A.K. Mansour – Founder Cape 66°
Mans studied Marketing Management at Lancaster and started his career at an outdoor media-owner in London, which was followed by a brief stint at OMD in Dubai. He returned to London in 2010, which marked the beginning of a journey at the coal face of entrepreneurship. In 2016, he sold his shareholding in 'The Clear Idea' and went on to found Cape 66° and Frontier.Investments.
Mans has a deep interest in entrepreneurial persistence and the long-term organic survival of an entrepreneur. Alongside the two businesses, he works on developing and refining practical action principles which guide the persistence of entrepreneurs.
Access a wealth of experience, and share yours
Our core interaction is focused on helping one another with the challenges of business. So no news/fake news, no self-promotion, no Ads, & no clutter.
The Cape 66° team gets to know every member personally and personally directs our requests to the fellow members best able to help.
Helping one another is also how we build relationships…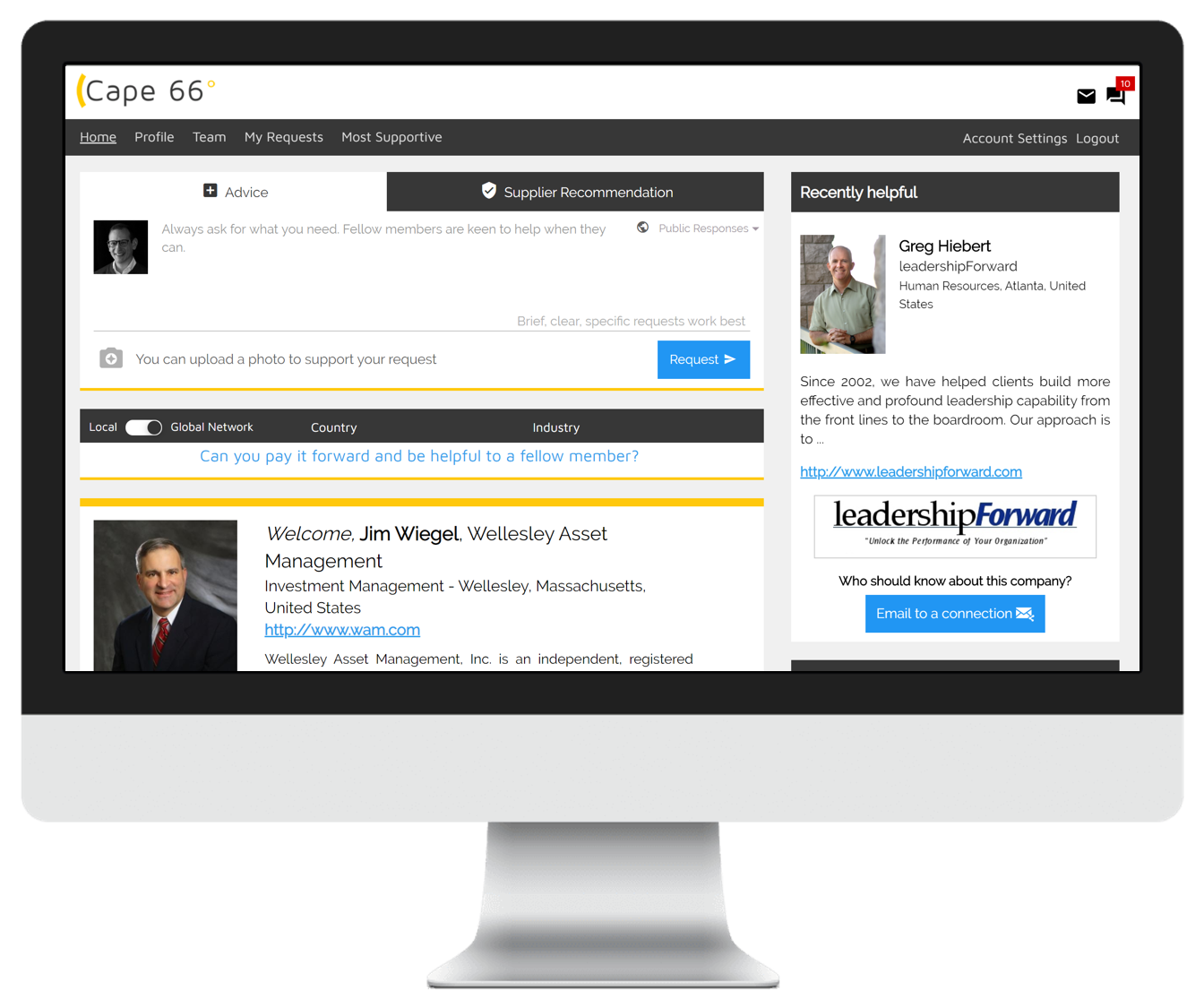 Meaningful connections
Valuable relationships are built on goodwill. Every time you give or receive advice or a supplier recommendation, you will gain a connection with a fellow Cape 66° member. 
Our platform makes it easy to build meaningful connections with fellow members, and leverages your goodwill to credibly raise awareness of your business…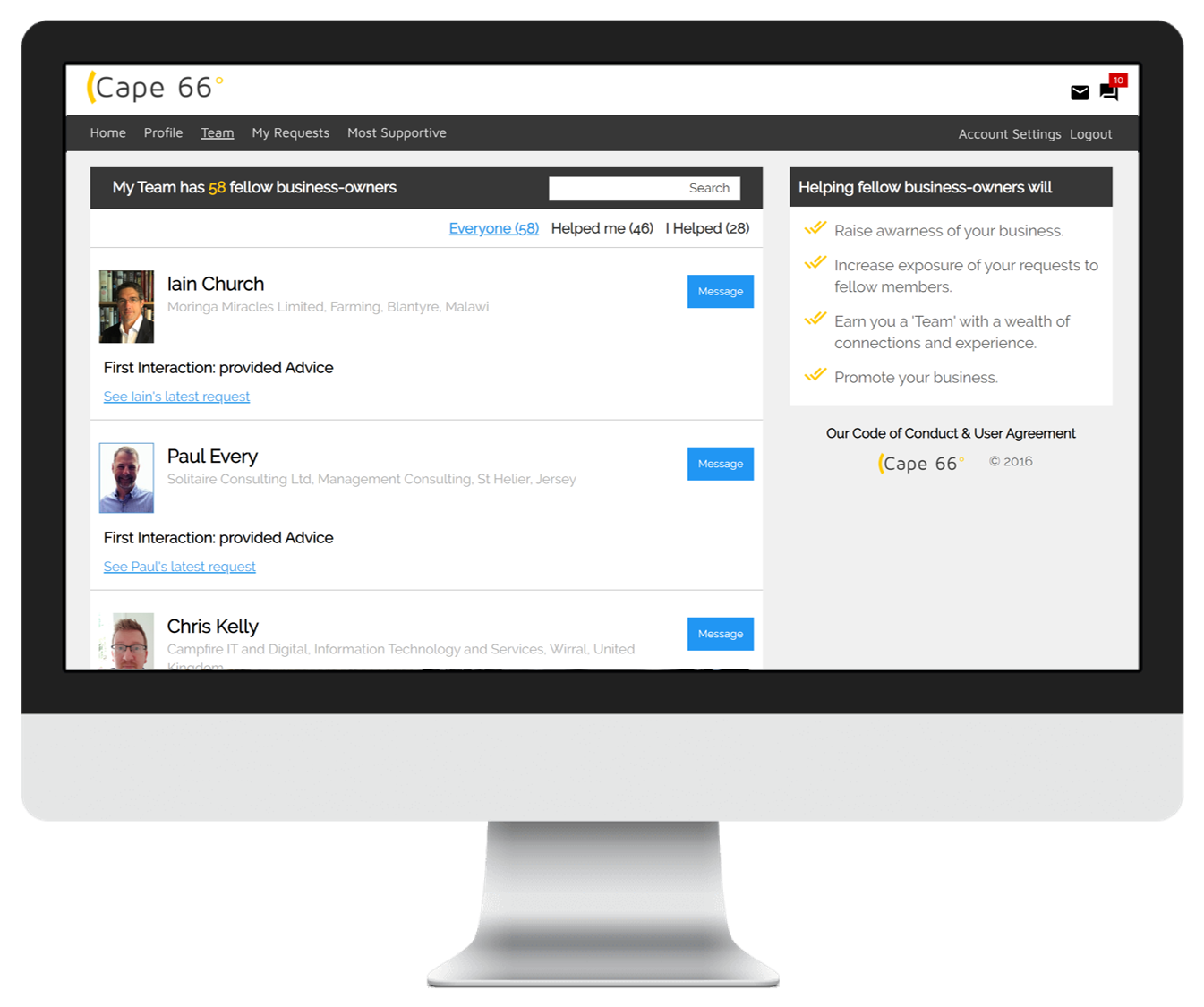 We celebrate helpfulness
Upon joining us, we will introduce you and your business to all fellow members.
Plus
Every time you help a fellow member, your business will be automatically endorsed to the entire community.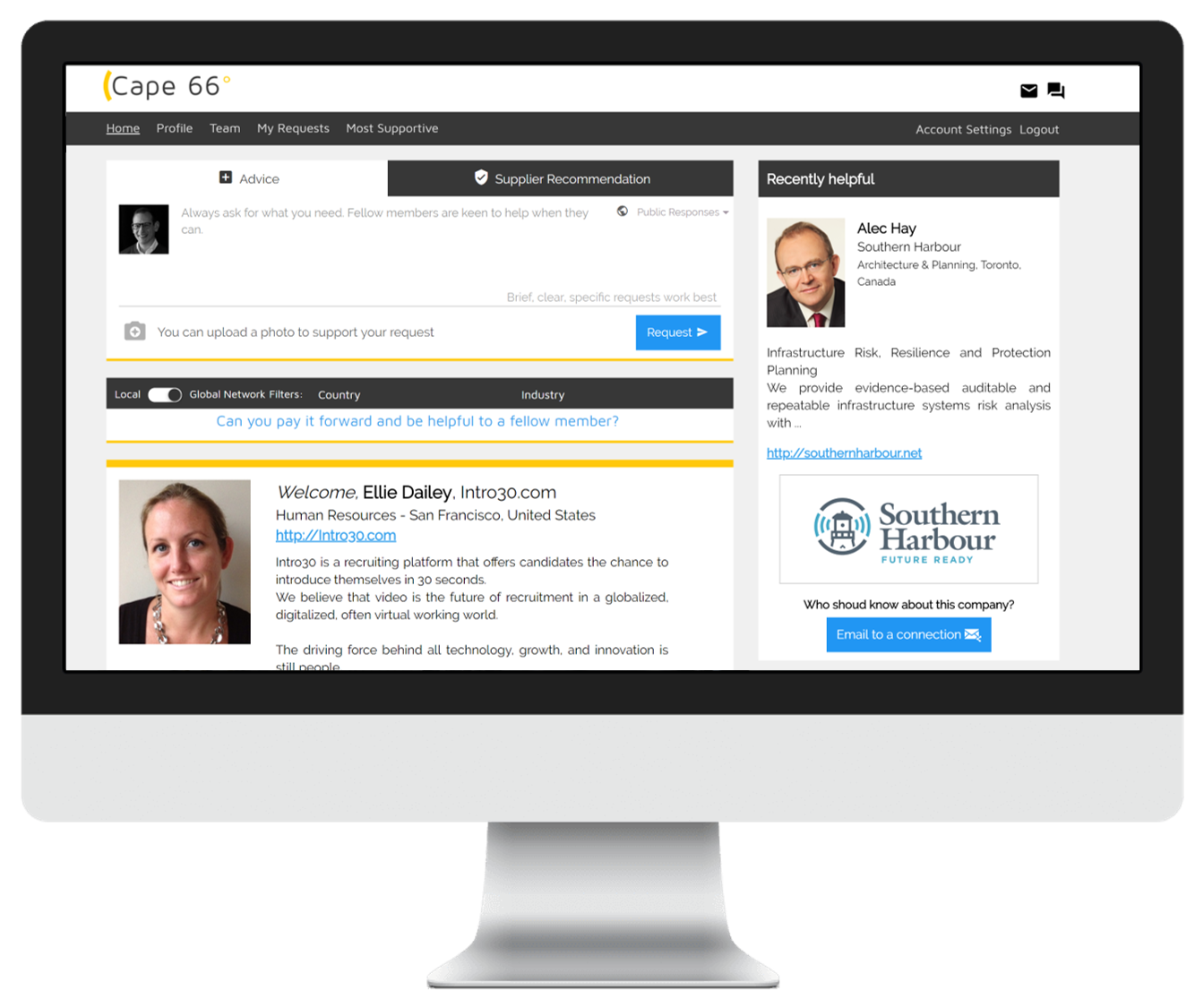 Credible awareness
We raise awareness of the businesses of members in every sector and geography, and facilitate organic opportunities for new business through the personal recommendations of fellow members.
Fortnightly Roundtables
These are an excellent additional opportunity for the exchange of experience and insight between members, and enable fellow members to get to better know one another. We currently hold fortnightly Roundtables focused on the following topic areas; (1) Revenue & Proposition Development', (2) People related issues and challenges, and (3) Money, Financial Management, & Investing. In addition, we host member-led webinars by experts in their respective fields.
For convenience, our roundtables and webinars are held via video-conference.
Cape 66° membership is by application
We speak with all prospective members via video conference ahead of providing access keys to Cape 66°. This gives us the opportunity to know all our members personally and allows us to maintain the integrity of the community.
Cape 66° is supported by its members
We have a £60 a month membership fee – cancellable at any time.
We never leave a fellow-member behind. If a business faces a tough time, we waive the fee until things get better.
The membership fee goes towards the following cost areas; (1) Interviewing New Members, (2) 'Personal Triage' and Community Management Activities,  (3) Platform Maintenance and Development.
We're business-owners and executives who value integrity, goodwill, and the counsel of experience. Cape 66° provides us with a quality environment in which supporting one another is rewarding and time-efficient. We access the support we need, and help when we can. Along the way, we build valuable connections and foster lasting goodwill.
Mans – A.K. Mansour | Founder Cape 66°
Why do you get to know members personally? It allows us to maintain the integrity of Cape 66°, and enables our community curator to provide additional support to member requests by highlighting them to fellow members who we know can help.
What happens after I apply? We will arrange a video conference to get to know you and answer any questions you might have.
When do I receive my 'access key'? After the call, prospective members who share the spirit of our community will be provided with a key to join Cape 66°.
Cape 66° ?
Every year, emperor penguins embark on a nearly impossible journey to bring life into the world. Whilst other creatures head north to evade the harsh Antarctic winter, emperor penguins head deep into it. In the harshest place on earth, every emperor pursues a perilous personal journey but they survive by sticking together.
Emperor penguins live in Antarctic colonies between latitudes 66° and 77° south and in many ways these impressive creatures are not so different from some entrepreneurs. In Cape 66°, we're business-owners who pay it forward. We support fellow entrepreneurs on their journeys.